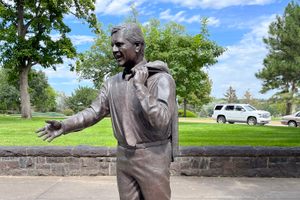 Generally thought to be inspired by Rapid City's tribute to the presidents, South Dakota's capital, Pierre (pronounced like "pier"), boasts the Trail of Governors. Some of the same artists worked on both projects, including sculptor John Lopez of the Kokomo Gallery in Lemmon.
The trail itself runs on a generally northeast-to-southwesterly trajectory, beginning just across the street from the governor's mansion, and continuing alongside the state capitol building, through downtown Pierre, and to the banks of the Missouri River.  
Spaced along the trail are the realistic-looking statues of the governors themselves. Every single one of South Dakota's 32 ex-governors can be found alongside the trail.