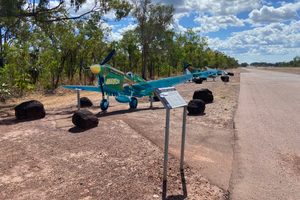 The Strauss Airstrip, also known locally as the Strauss Airfield, 27 Mile Field, and the Humpty Doo Strip, was a landing strip found in the Northern Territory of Australia.
It was constructed over a period between March and April of 1942 and was a key part of Australia's air defense during World War II. This is one of the most intact military installations in all of Northern Australia and was added to the Northern Territory Heritage Register due to its cultural and historic significance.
The airfield was named after United States Captain Allison W. Strauss, a P-40 Kittyhawk pilot who lost their life after crashing into Darwin Harbour during a Japanese air raid on April 27, 1942. The site was decommissioned at the end of 1945, and in recent years, information signs have been installed along with the placement of model aircraft.