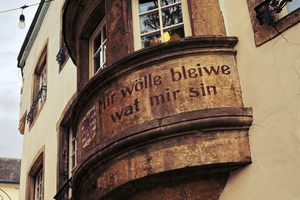 "Mir wëlle bleiwe wat mir sinnm," Luxembourgish for "We want to stay what we are," is the national motto of Luxembourg. As a very small country in the center of Western Europe, Luxembourg has braved a tumultuous history of fighting and bartering for its independence from multiple invading and occupying forces. This motto speaks to the ambition of the Luxembourgish people to retain their independence, identity, and sovereignty.
The motto is pulled from Luxembourgish patriotic song, written in 1859 by De Feierwon. In Luxembourgish, the lyrics of the chorus read: "Kommt hier aus Frankräich, Belgie, Preisen, / Mir wellen iech ons Hémecht weisen, / Frot dir no alle Säiten hin, / Mir welle bleiwe wat mir sin."
In English, this translates as: "Come here from France, Belgium, Prussia, / we want to show you our fatherland / ask in all directions, / We want to stay what we are."
Although this motto is posted in many places across Luxembourg, this version, which is painted on an ancient tower above Rue de la Loge is probably the most famous.