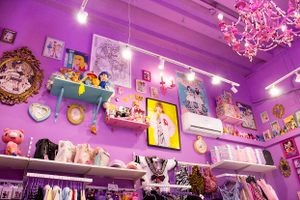 This tiny store located in the Arc de Triomf area has been a temple for emo teens, goths, and kawaii lovers since 2010. But what catches the interest of visitors is to find an incredibly colorful spot in the middle of the street, with its quirky, busy tiny space decorated with a big collection of subculture relics on their walls.
The museum-like decor shows a wide variety of everything alternative youth dreams of: from "kawaii" pop culture items, Japanese toys from the 60s, vintage anime rare novelties, to the dreamed room of an emo teen. This collection is not for sale in the store (it is actually a clothing and secondhand store), so their employees ended up adding signs to avoid the many daily inquiries about purchasing.
The collection has been composed by the owners and employees throughout their lives. Every item has a little history with their respective owner, and are exposed to share the deep love for underground culture with every person that steps into the little store.