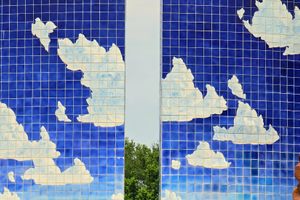 Kansas is known for its flatness, and sometimes it feels as though the sky can stretch across the whole horizon. In Newton, Kansas, a group of talented artists have created a majestic sculpture to harness and evoke this feeling of the expansive sky.
Completed in 2001, the Blue Sky Sculpture was created "to blend with the natural sky," as a plaque at the viewing stand suggests, which "requires a patient and contemplative viewer."
Painter Phil Epp worked with ceramicists Terry Corbett and Conrad Snider to create an arced and undulating structure, where the cobalt blue glaze of the ceramic tiles and fluffy white painted clouds reflect the color of the sky throughout the day. Viewers are encouraged to stand in between the sculptures, in what is known as the "sky passageway." To complete the motif, two giant abstract stoneware figures stand next to the sculpture, further encouraging interactivity.
The sculpture was donated by local philanthropist and inventor Lloyd E. Smith in memory of his wife, Jacqueline, and has since become a symbol of the community, inspiring further designs and being named one of the Eight Wonders of Kansas Art.