BassamFellows' Rail sofa collection began with an architectural project – a client's guest house/pool pavilion featuring a large indoor/outdoor lounge area separated by folding glass doors, located near the brand's base in New Canaan, Connecticut.
"As with all of our furniture designs, Rail comes from an architectural project…," says BassamFellows Co-Founder Craig Bassam. "When open, the entire living space becomes one, and I wanted the lounge areas to seamlessly integrate inside and outside with a single lounge system. I also wanted the lounge to echo the pavilion's clear, rational geometry and refined wood cladding. Rail is rooted in the Arts & Crafts Movement, but is lighter, more sculptural, and more pared down, continuing our commitment to our minimal artisanal vision of 'Craftsman Modern.'
Constructed using precise joinery principals, Rail features a light but substantial frame that's defined by a single bar. Acting as part of the back and arms, it encloses the seat cushions within a strong horizontal line. The eponymous rail and the vertical supports are deep but thin, carved into an exaggerated fin shape. Cantilevered elements at each corner mimic the architecture of the New Canaan pavilion.
Rail's cushions are hand-upholstered using outdoor foam and a fiber "jacket" housed in an easy-to-remove cover that's made from an innovative hemp-based outdoor fabric. BassamFellows commissioned the new eco-friendly material from a 150-year-old Italian mill. The technologically advanced result is a fabric that's natural, sustainable, and biodegradable, with excellent sun protection, pool-water resistance, and durability.
The Rail sofa collection includes single, two- and three-seater lengths, ottomans, benches, and sun lounges. These individual elements can then be combined to create configurations that include U-shapes and L-shapes. Choose from a variety of woods for both indoor and outdoor use, including Iroko, Walnut, and Oak.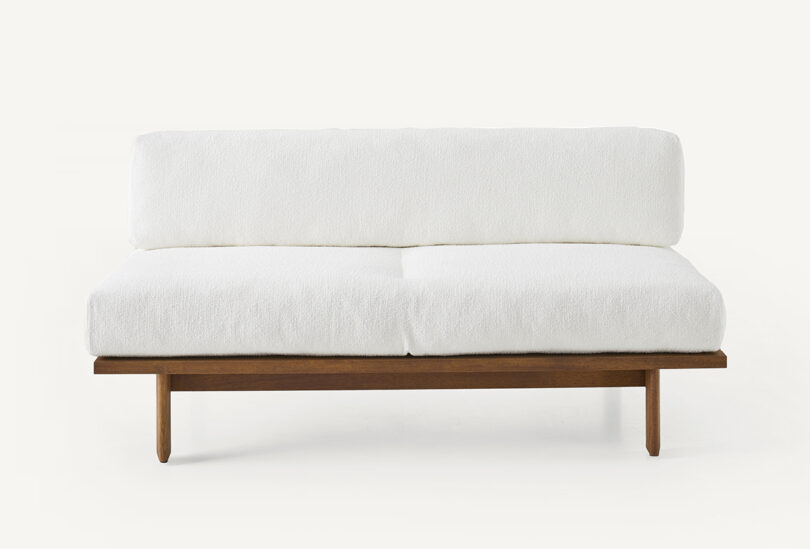 To learn more about the Rail Sofa Collection, visit bassamfellows.com.
Photos by Joe Fletcher Photography.