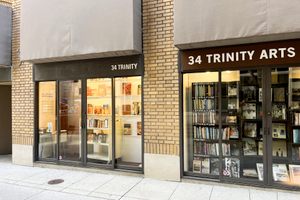 Like the Peephole Cinema in San Francisco, this small-scale destination for bibliophiles is similarly out of view, tucked up against a building in a tree-lined urban alleyway/POPOS (no, not police officers, but a Privately-Owned Public Open Space) in Downtown San Francisco.
The store inhabits three showcase windows just two feet deep and 14 feet wide. Once a display space for the I. Magnin & Co. department store, it's now a thoughtfully curated selection of books, zines, art, and other paper ephemera, as well as a few book carts on wheels. The space found its second life as a bookstore in 2012, when G.F. "Rick" Wilkinson transformed the former display windows into a small bookstore. It became a fixture in the neighborhood.
When Wilkinson decided to close the store in order to focus on his online bookselling business, a new group took over running the beloved store, which was renamed 34 Trinity Arts and News.
Run by a dedicated cadre of volunteers, this diminutive oasis of reading materials (with a focus on San Francisco-based writers, authors, and subjects) provides a much-needed respite from the glass and steel monoliths that loom over it. 34 Trinity occasionally collaborates with other local businesses to host various events including art exhibitions and poetry readings.